This cheesy Baked Creamy Chicken Pasta is perfect for a cold night in that will be enjoyed by your family!
Cuisine : European  Course : Main  Skill Level : Novice
Prep : 25 mins Cook : 30 mins Ready in : 55 mins  Serves : 1-2 Servings
---
INGREDIENTS                                          
Handmade Pasta

200gm All-Purpose Flour
2 Large Eggs

Chicken Cream Sauce

3 tbsp Olive Oil
¼ cup Onions, chopped
1 tsp Garlic, chopped
¼ cup All-Purpose Flour
2 cups Chicken Stock
Dried Rosemary & Parsley
250ml Full Cream Milk
200ml Cooking Cream
200gm Boiled Chicken Meat
2 pcs Chicken Sausage
50gm Mushroom (optional), sliced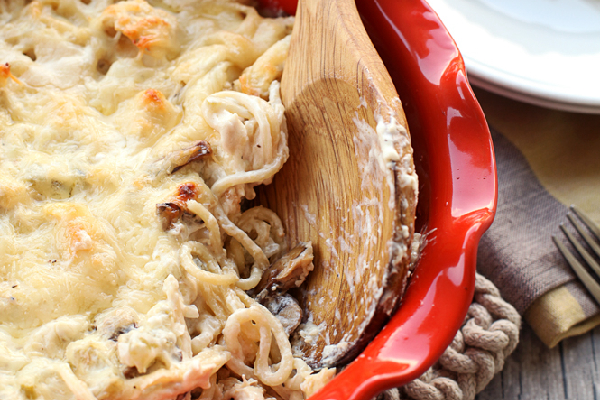 DIRECTIONS FOR HANDMADE PASTA
In a stand mixer attached with a dough hook, combine all ingredients and mix.
Beat until dough become light yellow, smooth and soft.
Rest the dough for 10 mins.
Roll and cut the pasta dough. Dust with semolina and flour.
Set aside until ready to boil.
In a deep pot, boil water and add salt.
Boil pasta for approximately 3-4 mins. Drain and toss with olive oil.
DIRECTIONS FOR CREAM CHICKEN SAUCE          
Finely chop the onions, garlic, rosemary and gently fry on a medium heat in the olive oil for approx. 3 mins stirring continuously.
Add the flour followed by chicken stock.
Reduce heat to low, add cream and milk, stir gently, add mushrooms, ensuring all ingredients are covered in cream.
Add the roughly chopped chicken meat.
Drain pasta and add to sauce – stir pasta and sauce to ensure all pasta is covered.
Preheat the oven to 200°C.
Add the cooked pasta to the thickened sauce, making sure it's coated completely.
Toss in the chicken pieces. Pour the pasta mixture into the prepared aluminium casserole dish, and then top with chicken sausages,mozzarella cheese and parmesan powder.
Bake it uncovered for 20 minutes, until the cheese is melty and the edges are bubbly.
Let it rest for 5 minutes before serving.