This sweet and savoury bread, made with Briche dough, is rich and golden with butter and eggs, boasting a paper-thin crust and a silky, tender crumb! It is great on its own, and even better with different sweet or savoury fillings! Try these with a Nutella filling – they are bound to leave you wanting more! 
Cuisine : Baking Course : Appetizer Skill Level : Novice
Prep : 80 mins Cook : 30 mins Ready in : 110 mins Serves : 4

---
INGREDIENTS:
3 to 3½ cups Bread flour
1½ tsp Instant yeast
¾ cup Cream or milk, scaled then cooled
2 large Eggs
60g Unsalted butter
1 tsp Salt
½ cup Sugar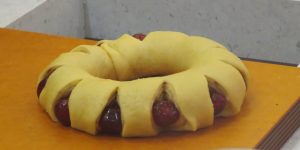 DIRECTIONS:
Mix all the ingredients until soft dough is formed either using stand mixer and dough hook or by hand.
Leave to rise in greased bowl for an hour, until doubled in size.
Punch down the air and shape into roll.


Variations

Povitica or Hungarian Kalac: using nutella or praline filling.

Make into challah by braiding the dough.

Divide into balls, then fit them into a baking pan.

Make into cinnamon pecan bon or holiday wreath.

Fill the bread with sweet or savoury filling.

They make the perfect burger buns.

*Add wheatgerm for healthier buns

Preheat the oven to 200ºC.

Brush top with egg wash, add into the oven. Reduce heat to 180ºC then bake until golden.

Timing varies based on size and type of dough.