Chef Eric Low shares with us a Hainanese version of a classic beef steak! Try this at home today for a twist to your regular steak. 
Cuisine : Fusion Course : Main Skill Level : Novice
Prep : 20 mins Cook : 50 mins Ready in : 70 mins Serves : 4

---
INGREDIENTS:
4 large Idaho Potatoes
4 stalks Spring Onions, finely diced
8 slices Streaky Bacon
4 tbsp Sour Cream
Sauce
3 tbsp Ketchup
3 tbsp HP Sauce
2 tbsp Worcestershire Sauce
1 tbsp Sugar
1 tsp Sesame Oil
100ml Water
Steak
4 pcs Sirloin Steaks, about 180g – 200g each
Salt
Coarse Ground Black Pepper
Garnish
1 tbsp Butter
20g Chopped Onions
10g Chopped Garlic
250g Fresh Button Mushrooms, sliced
50ml Whipping Cream
Salt and Pepper to taste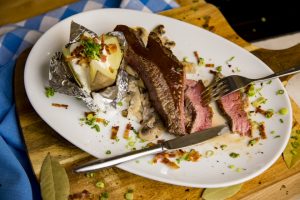 DIRECTIONS:
Preheat oven to 180°C. Wrap the washed potatoes in foil and set them onto the Nordic Ware Potato Baker. Place the potatoes into the oven for 45 mins. Insert a toothpick and if it goes through, the potatoes are cooked.
Arrange bacon on baking tray and bake alongside with the potatoes for 20 mins till crispy. Cool, chop up the bacon and set aside.
Season steaks with salt and a generous amount of black pepper. Set aside.
In a pan, melt butter and cook the onions till fragrant. Add mushrooms and pour in whipping cream. Season with salt and pepper and cook briefly for a minute. Set aside.
On a heated frying pan, grill the steaks on both sides till medium. About 2-3 mins for each side.
Combine ingredients for sauce in a mixing bowl, pour it into the frying pan used to cook the steak to deglaze the pan. Bring sauce to boil, set aside. Make a cross over each potato and push up from the bottom with fingers to create a bloom.
To serve, divide the mushrooms among four plates, place a piece of steak on each plate. Serve the potatoes on the side with the condiments and spoon the sauce over the steaks before serve.