Discover how to make the perfect Handmade Pasta with a light Carbonara Sauce with this recipe!
Cuisine : European Course : Main Skill Level : Novice
Prep : 15 mins Cook : 20 mins Ready in : 35 mins Serves : 1

---
INGREDIENTS:
100 g All Purpose Flour
1 Egg
Additional Flour for coating
1 clove Garlic crushed
4 Strips of bacon
Butter
Olive Oil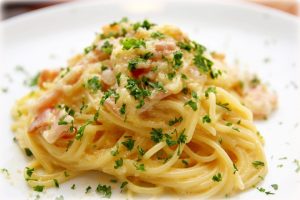 DIRECTIONS:
Mix flour together and form a depression in the middle; crack egg into depression.
Using a fork, begin to mix the flour into the egg in a inward motion.
When fairly incorporated, use hand to knead the dough. If the mixture is too sticky, add some plain flour; if it is too dry, add a little water. (Use a little muscle!).
When well incorporated, thin dough then cut with pasta machine.
Add shredded bacon, and a clove of garlic.nd olive oil.
When bacon is crispy, switch off the fire and allow to cool.
Cook pasta in salted water.
Add drizzle of cream in the pan (alternatively, beat egg yolk with cream).
Toss cooked pasta and shredded parmesan in pan.
Top with raw egg yolk.
Top with freshly shaved parmesan.