Loaded with vegetables, mushrooms and well-marbled beef in a sweet and savoury Kanto-Style soy sauce broth with Kansai-Style condiments! This is the dish to make for a heart-warming family gathering.
Cuisine : Asian  Course : Main  Skill Level : Novice
Prep : 10 mins Cook : 15 mins Ready in : 25 mins  Serves : 1-2 Servings
---
INGREDIENTS             
Well-marbled beef sliced for sukiyaki (3mm thick)
Preferably a good quality ribeye , short rib or chuckroll
Japanese Leak
Napa Cabbage
Carrot
Enoki Mushrooms
Fresh Shiitake Mushrooms
Firm Tofu
Konnyaku Noodles
Udon Noodles
Freshest Pasteurised Eggs (Optional)
Sukiyaki Sauce Kanto-Style, Eastern Japan

1 part Sake
1 part Mirin
1 part Soy Sauce
1 part Kombu Stock
¼ part Brown Sugar

Sukiyaki Condiments Kansai-Style, Western Japan

Sake
Soy Sauce
Brown Sugar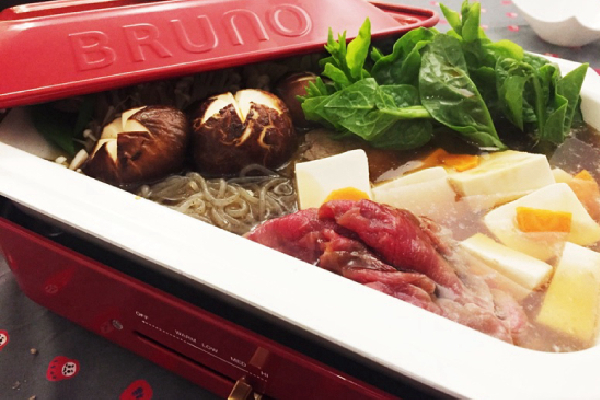 DIRECTIONS
Kanto Style
To make Kanto-style sukiyaki sauce, combine all ingredients inside Bruno Nabe Pot and bring to a boil for around 5 minutes to reduce the mixture slightly.
Arrange Japanese cabbage, leek, tofu, mushrooms and simmer for about 3 minutes, then add the thinly sliced beef and udon. Simmer the ingredients for another 3-5 minutes until all ingredients are well-cooked.
To enjoy Kanto-style sukiyaki, dip cooked vegetables and beef in beaten pasteurized egg.
Add more sukiyaki sauce and repeat step 2 to continue cooking.
Kansai Style     
To make Kansai-Style sukiyaki, preheat Bruno Nabe Pot on high.
Place a piece of beef fat, move it around to render its fat. If you don't have any beef fat, add 1 tsp of oil and spread it around.
Add some brown sugar, and sear sliced beef in the pot. Drizzle sake and soy sauce. Let it sizzle, then flip the beef to cook the other side briefly. Do enjoy the beef by dripping in pasteurized eggs.
In the same pot, arrange cabbage, leef, tofu, mushrooms, konnyaku noodles and sliced beef. Sprinkle brown sugar, drizzle soy sauce and sake. Allow ingredients to simmer and cook.
To enjoy Kansai-style sukiyaki, dip cooked vegetables and beef in beaten pasteurized egg.
Add the end when all ingredients are taken out of the pot, add cooked udon or rice to soak up the flavourful sauce. Add more brown sugar, soy sauce and sake if mixture is too dry.