Indulge in this melt-in-your-mouth, buttery and crumbly Salted Egg Cookies during your teatime!
Cuisine : Asian  Course : Dessert Skill Level : Novice
Prep : 15 mins Cook : 13-18 mins Ready in : 28-33 mins  Serves : 1-2 Servings
---
INGREDIENTS                                          
125gm Plain Flour
10gm Corn Flour
½ gm Baking Powder
½ gm Baking Soda
10gm Milk Powder
4 Salted Egg Yolk
85gm Unsalted Butter
2gm Salt
40gm Caster Sugar
1 Egg Yolk
Dash of Oil
Pinch of Salt
Black & White Sesame Seeds (Optional)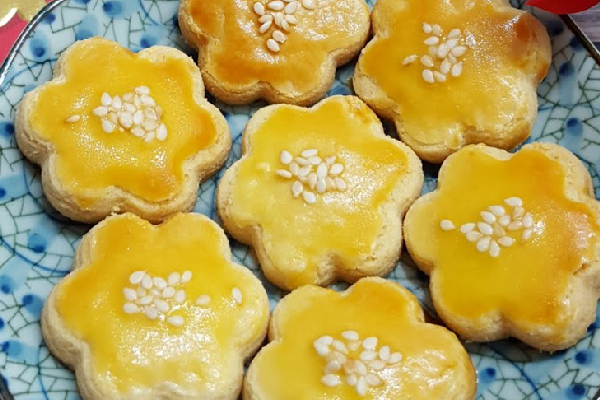 DIRECTIONS
Preheat oven to 170C.
Steam salted egg yolk, roughly chop and set it aside to cool.
Cream butter, sugar and salt together till fluffy.
Add in all sifted dry ingredients gradually.
Gradually incorporate chopped egg yolk.
Roll to 5mm thickness and cut out desired shape.
Brush with egg wash and top with black and white sesame.
Bake for 13-18 minutes.