Try this Stuffed SousVide Boneless Chicken Leg from Chef Felix Chong for a unique and luxurios main dish! Stuffed with foie gras and caramelized apples, it goes perfectly with the tender chicken. The bacon cuts through the sweetness of the caramelized apples, adding another layer of flavour and complexity to the dish.
Cuisine : European Course : Main Skill Level : Novice
Prep : 30 mins Cook : 45 mins Ready in : 75 mins Serves : 1

---
INGREDIENTS:
1pc Boneless Chicken Leg
50 – 60g Foie Gras
6cs Bacon Strips
1pc Apple
50g Caster Sugar
1 tbsp Unsalted Butter
500g Carrots
300ml Veal Jus
1 tsp Truffle Oil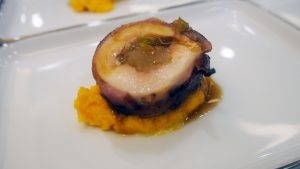 DIRECTIONS:
Prepare a pot of boiling water and place the carrots in it till fully cooked for about 15 min.
Remove from the pot and pass through a fine strainer.
Transfer to a small pot and butter monte it till a light and fluffy texture is obtained.
Remove the skin from the chicken.
Lay out the chicken in between 2 pcs of cling film and use a kitchen pounder to flatten it and season well with salt and pepper and set aside in the fridge.
Peel off the apple skin and dice it into small cubes.
Heat up a pan with caster sugar. Once it starts to caramelize, place the apple cubes in it and steer for about 30 seconds. Lastly, add in unsalted butter to it and simmer for another 2 mins.
Remove the apple and cool it down.
Place the foie gras on the chicken in a straight roll together with the caramelized apple and roll it up tight.
Roll up the stuffed chicken with the bacon strips and vacuum pack tight to remove excess air in the bag.
Sousvide the chicken in the water bath and pan fry it over a non-stick pan – ensure the bacon is nice and crispy.
Portion into 5-6 pcs and palce it on top of the carrot mash and drizzle over with truffle veal jus!