Tempt your taste buds with this Rum-infused Almond Sugee Cake by Chef Trish!
Cuisine : Baking Course : Dessert Skill Level : Novice
Prep : 20 mins Cook : 40 mins Ready in : 60 mins Serves : 10

---
INGREDIENTS:
4 Egg yolks
2 Egg whites
120g Butter
85g Sugar
90g Semolina
50g Flour
½ tsp Baking powder
1/8 tsp Baking soda
1 tsp Rum or Vanilla essence
30g Almond flour
30g Milk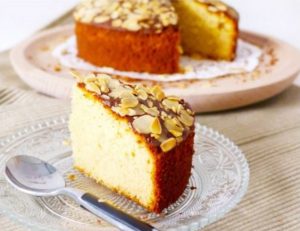 DIRECTIONS:
Cream butter and ½ of the sugar together in a mixing bowl using high speed for 5-8 mins.
Add in the semolina in and continue to beat for another few mins, add in the rum or vanilla essence. Set aside
In another clean mixing bowl, beat the egg whites using high speed for 2-3 mins till foamy then add in the rest of the sugar.
Once the egg whites reached soft peak, lower the speed and add the yolks in and continue to beat for 1 min. Mix well by hand.
Pour 1/3 egg mixture to the butter mixture and fold gently till it incorporates before another the next batch of egg mixture.
In a separate bowl, combine the almond, flour, baking powder and baking soda. Sieve together.
Add in the flour mixture to the batter using a spatula. Mix well and pour in the milk and mix well.
Pour the mixture into a 6 inch baking tin and sprinkle some almonds on top.
Bake for 35 -40 mins at 150°C.