This stuffed portobello mushrooms are a delight for any dinner table! Stuffed with creamy cheese flavourful bacon, you'll be left wanting seconds! 
Cuisine : European Course : Appetizer Skill Level : Novice
Prep : 15 mins Cook : 20 mins Ready in : 35 mins Serves : 2

---
INGREDIENTS:
2pcs Portobello Mushroom
1 tbsp Bacon
1 tbsp Pistachio Kernel
2 tbsp Japanese Breadcrumbs
1 Egg
2 tbsp Cream
50g Cheddar Cheese
50g Mozzarella Cheese
1 tbsp Flour
200ml Beer
1 tsp Dijon Mustard
Pinch of Horseradish
Dash of Tabasco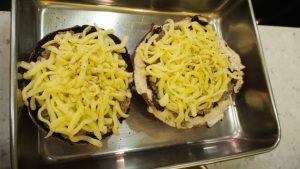 DIRECTIONS:
Gently twist off or cut off the stem of each mushroom. Holding a mushroom in one hand, use a spoon to gently scrape out all of the gills from the underside of the Portobello mushroom cap and discard.
Chop the bacon and pistachio into tiny bits and mix them well with the breadcrumbs, eggs and cream. Season with salt and pepper and set aside.
Spoon the fillings generously onto the underside of the mushroom cap. Sprinkle over with some mozzarella cheese and oven bake at 190 degrees for approximately 8 to 12 minutes.
Preparing the fondue: mix the shredded mozzarella cheese and cheddar cheese in a mixing bowl with a pinch of flour.
Heat up a pot with beer, mustard, horseradish, tobasco and pinch of chopped garlic.
Add in half of the cheese mixture and stir it constantly till the cheese is melted evenly before adding the rest of the cheese into it.
Keep the fondue warm and spoon it over the gratinated mushroom and sprinkle with paprika powder.