Ever tried a moist and flavourful Hainanese Steamed Chicken You can now make this popular dish at home with Chef Julie's recipe! 
Cuisine : Asian Course : Main Skill Level : Novice
Prep : 5 mins Cook : 40 mins Ready in : 65 mins Serves : 4

---
INGREDIENTS:
1 no. Chicken
Few slices of Ginger
Few cloves of Garlic
2 pcs Pandan Leaf
1 tsp Salt
1 tsp Sugar/MSG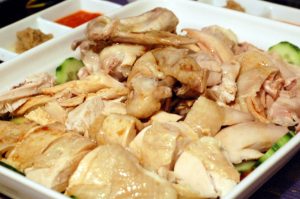 DIRECTIONS:
Wash chicken and stuff all ingredients in the stomach. Rub salt evenly.

Steaming Instructions

Whole Chicken XL size – Estimate 45mins steaming and off fire covered for 15mins.

Whole Chicken M size – Estimate 35mins steaming and off fire covered 15mins.

Use the chopstick to test the thigh & drum area to check- if liquid is clear means chicken is cooked.

Rub a bit of sesame oil and Soya Sauce while chicken is hot. Serve chicken rice with chilli sauce and premium thick chicken rice dark sauce.