This decadent Chocolate Marshmallow Cupcake pairs a rich, moist and buttery chocolate flavored cupcake with a soft and fluffy Marshmallow Frosting. Make these for the kids as a treat! 
Cuisine : Baking Course : Dessert Skill Level : Novice
Prep : 30 mins Cook : 30 mins Ready in : 60 mins Serves : 48 mini cupcakes

---
INGREDIENTS:
    For the Chocolate Cupcakes
3 cups Sugar
3 cups Cake flour
1½ cup Cocoa powder
1 tbsp Baking soda
1½ tsp Baking powder
1½ tsp Salt
1½ cup Buttermilk
¾ cup Vegetable oil
1½ cup Warm water
3 Large eggs
1½ Vanilla extract

For the Marshmallow Frosting

8 Large egg whites at room temperature
2 cups Granulated sugar
½ tsp Cream of tartar
1/8 tsp Fine salt
2 tsp Vanilla extract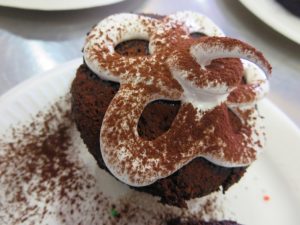 DIRECTIONS:
          For the Chocolate Cupcakes
Preheat oven to 160ºC. Place cupcake holders in mini cupcake trays.
Place all dry ingredients in the mixing bowl and mix on very low to combine. Add buttermilk, oil and water and mix on medium until combined; add eggs and vanilla and mix on medium again until just combined.
Fill each cupcake holder 2/3 with batter and bake for 10-20 minutes until firm. Cool in pan for 5 minutes before removing onto a wire rack to cool completely before icing.


For the Marshmallow Frosting

Pour water 1 inch deep into a small pot and place over medium heat to bring to a simmer. Place all ingredients except vanilla in a glass bowl and place over simmering water. Whisk by hand for about 6 minutes until sugar is dissolved and mixture is hot.

Pour hot mixture into Kenwood mixing bowl and whisk on medium for 1 minute. Increase to high and keep whisking until stiff, glossy peaks form – this should take about 5 minutes. Add the vanilla and whisk 1 more minute.