Perfect comfort food! Bell peppers stuffed with minced chicken, vegetables, rice and cheese. A delicious, relatively easy weeknight dinner. Switch up the protein and use your favourite veggies to customise it!
Cuisine : European Course : Appetizer Skill Level : Novice
Prep : 15 mins Cook : 60 mins Ready in : 75 mins Serves : 6 Servings

---
INGREDIENTS:
6 Whole Bell Peppers
2 tbsp Olive Oil
8 ounces, weight Lean Ground Chicken/ Beef
Salt and Pepper, to taste
1 whole Medium Onion, Diced
3 cloves Garlic, Minced
1 whole Large Zucchini, Diced
4 whole Roma Tomatoes, Diced
1 cup Cooked Rice
2 cups Pepper Jack Cheese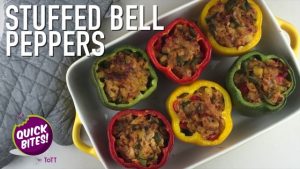 DIRECTIONS 
Cut the tops off the pepper. Remove and discard the stems, then finely shop the tops; set aside. Scoop out the seeds and as much of the membrane as you can. Place in a plastic bag.
Heat 2 tbsp of olive oil in a large skillet over medium-high heat and fry the garlic. Add the chicken, season with salt and pepper and cook until the meat is cooked through. Transfer to a plate.
Add the onions, chopped peppers and zucchini. Add the tomatoes and season with salt and pepper. Cook until everything is heated through, then add in the rice. Taste and adjust the seasoning. Stir in 1 1/2 cups of the cheese. Allow the mixture to cool and store it in a fridge container. Store the extra cheese in a small container. ( All ingredients can stay in the fridge for up to 3 days)
When you're ready to make dinner, preheat the oven to 350 degrees F.
Place the peppers cut-side up in a baking dish just large enough to hold them upright. Fill the peppers with the rice mixture and bake for 30 minutes.
Serve piping hot!