This stunning Squid Ink Risotto is the combination of two fabulous ingredients; it is thick, creamy and pack with flavors.
Cuisine : European Course : Main Skill Level : Novice
Prep : 10 mins Cook : 50 mins Ready in : 60 mins Serves : 2-4 Servings

---
INGREDIENTS:
RISOTTO

1 cup Carnaroli Risotto
30g Unsalted Butter
1/4 pc Onion – chopped
500ml Lobster/ Prawn Broth
3 pc Baby Squid
1 pc Tomato
1 stalk Basil
Garnish

Radish – thinly sliced
Fried Shallot
Basil Leafs
Grated Bottarga

ROASTED CAPSICUM COULIS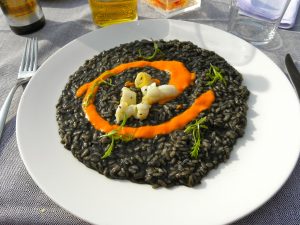 DIRECTIONS FOR RISOTTO
Fry the onions, garlic (and any vegetables that need softening) in a little butter.
Add risotto rice – such as arborio,carnaroli or vialone nano – and fry until translucent.
Add wine if using, stirring continuously until absorbed.
Add a ladleful of hot stock, tomatoes, cabbage and cook over a medium heat and keep stirring until all the stock is absorbed.
Repeat this until all the stock has been used, the rice no longer has a chalky core and the risotto is thick and glossy.
Add final the ingredients such as squid, basil and butter. You can leave the risotto to sit for a few minutes so that all the flavours and liquid absorb and settle.
Stir through the fresh herbs before serving.
DIRECTIONS FOR ROASTED CAPSICUM COULIS
Remove the seeds from the capsicum and cut them into small pieces.
Sweat the onion with olive oil (not browning them) then add in the chopped capsicum.
Add enough water to cover the capsicum and simmer it till is fully cooked.
Blend it smooth and pass through a fine sieve.