The moist Japanese Vanilla Sponge layered with Chantilly Cream and fresh strawberries is the best way to end your meal!
Cuisine : Baking Course : Dessert Skill Level : Novice
Prep : 20 mins Cook : 25 mins Ready in : 45 mins Serves : 6

---
INGREDIENTS:
Japanese Vanilla Sponge

3 Eggs
95g Sugar
30g Milk
90g Cake flour
30g Melted unsalted butter

Chantilly Cream

400g Dairy whipping cream
40g Icing sugar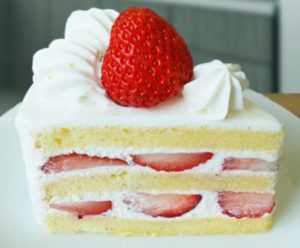 DIRECTIONS:
         For the Japanese Vanilla Sponge
Whisk the egg and sugar over a bowl of simmering water, until the sugar is completely melted.
Remove from the heat and continue to whisk it until it is whitish and fluffy, add in the milk and whisk it until ribbon stage.
Fold in the sieved flour into the batter.
Lastly, add in the melted butter and fold it well.
Bake it at 180°C, non-fan mode for 25 minutes.


For the Chantilly Cream                 

Whisk the cream until soft peaks.

Add in the icing sugar and whisk until it is stiff.

Chill until you are ready to use it.