Savour the sweetest, most delicious seafood you've ever tasted with Chef Susanne's Steamed Fish Fillet recipe with a side of refreshing Zucchini Ratatouille!
Cuisine : European Course : Main Skill Level : Novice
Prep : 10 mins Cook : 42 mins Ready in : 52 mins Serves : 4

---
INGREDIENTS:
4 Threadfin fillet (or red snapper, barramundi), 120g/ pc
1 no Big yellow onion
2 cloves Garlic
10 g Butter
1 tbsp Olive oil
1 tbsp White wine vinegar
1 tbsp Raw sugar
1 no Zucchini
1 can Tomatoes, chopped
1/2 bunch Sweet basil
Salt, pepper, thyme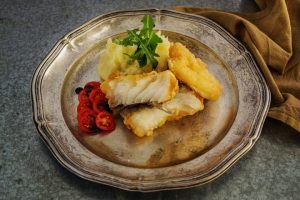 DIRECTIONS:
Place thread fin fillet in steamer basket.
Peel the onion and slice it finely in a food processor. (Set aside)
Do the same with the zucchini (if zucchini is too large, cut in two, length wise, set aside.)
Chop the garlic finely using a mini bowl of food processor.
In a non-stick pan or wok, heat the butter and olive oil over medium heat. Add sliced onion, chopped garlic, sugar and salt. Fry on low heat for 5 minutes, until onions are translucent, then add white wine vinegar and fry for another 15 minutes, until the onion are caramelized and soft.
Add zucchini, sprinkle with salt and fry on medium heat with onions, until translucent.
Add chopped tomatoes and thyme and mix gently with zucchini. Cook for 10 minutes or until the juices have reduced a little bit. Season to taste with salt and pepper, add finely chopped basil.
Steam fish fillet for 5-7 minutes or until the flesh turns opaque and white – add salt.
On a plate, place 2-3 spoonful of ratatouille in the middle. Top with fish and garnish with basil.