Try this amazingly creamy Clam Chowder that is made from scratch with live clams and enjoy the true taste of seafood!
Cuisine : European  Course : Appetizer  Skill Level : Novice
Prep : 60 mins Cook : 20 mins Ready in : 80 mins Serves : 2

---
INGREDIENTS:
½ Live clams
1 no. Potato for baking
4 pcs Bacon
½ no. Onion
Butter
Cream
Olive oil
Chives for garnish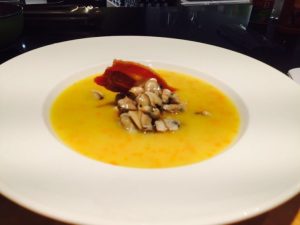 DIRECTIONS:
Bake potato in foil in oven @ 180°C for 30 mins.
Allow potato to cool before shredding.
In a wok, steam clams lightly. Remove the shells and clam meat; reserve liquid.
Lay out 2 strips of bacon and slice finely into strips.
Heat a sauce pan. Add butter and olive oil and fry onions until translucent. Add bacon and fry until fragrant.
Add clam juice and water, following by shredded baked potato. Allow to simmer for 20 minutes.
Finish with cream.
Place the other 2 pieces of bacon between kitchen towels and put in microwave for 3 minutes.
Place soup in 2 bowls and garnish with bacon piece and chives.