Sink your teeth into beautiful layers of lady finger biscuits, vanilla Chantilly cream and fresh strawberries! These Strawberry Shortcake Cups are to die for.
Cuisine : Baking Course : Dessert  Skill Level : Novice
Prep : 45 mins Cook : 0 mins Ready in : 45 mins  Serves : 5-8 dessert shot cups
---
INGREDIENTS             
Vanilla Chantilly Cream

150g Dairy Whipping Cream 35% fat
10g Icing Sugar or Caster Sugar (Optional)
1/8 1 ¼ tsp Vanilla Extract or Vanilla Bean Paste

Trifle Base

8 pcs Lady Finger Biscuits
100ml Milk or Full Cream
OR
Vanilla Sponge Cake
Strawberries, chopped into small cubes
Jelly/ Piping Glaze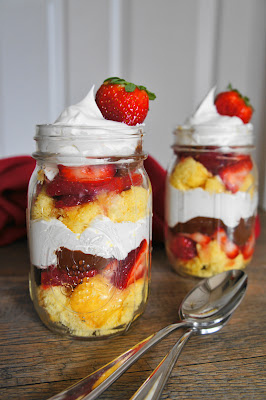 DIRECTIONS FOR VANILLA CHANTILLY CREAM
In a cold greaseproof mixing bowl, combine whipping cream, sugar and vanilla.
Using the whisk attachment, whip on medium speed (Kitchenaid speed 6) till soft firm peaks form.
Using a spatula, transfer the whipped cream into piping bag with piping tip. Keep in the fridge immediately if not using immediately.
DIRECTIONS FOR ASSEMBLING THE TRIFLE
Gently soak your sponge fingers in the milk briefly to moisten the sponge.
Cut each up into 4-5 pcs each depending on your dessert shot cup shape/size.
Place 2-3 pcs of soaked lady finger biscuits into each dessert cup.
Pipe 1 layer of Vanilla Chantilly Cream. Top with chopped strawberries.
Place remaining ladyfinger biscuits on top. Pipe 1 layer of Vanilla Chantilly Cream.
Top with diced strawberries mixed with some jelly glaze.
** Keep refrigerated if not consumed within 30 minutes. Eat within 3 days.