Indulge in these irresistible Salted Earl Grey Chocolate Chip Cookies that tastes amazing on its own and even better when paired with Earl Grey infused butter!
Cuisine : Baking Course : Dessert Skill Level : Novice
Prep : 40 mins Cook : 10 mins Ready in : 50 mins Serves : 25 medium cookies or 17 large cookies
---
INGREDIENTS
110g Infused Earl Grey Butter, Melted*Recipe Below
160g Brown Sugar (Light/Dark)
50g White Sugar
½ tsp Vanilla Bean Extract/Paste
1 Egg (60-65g)
210g Plain Flour
½ tsp Baking Soda
½ + 1/8 tsp Baking Powder
¾ tsp Sea Salt
1 Earl Grey Tea Bag (Fine type)
170g Semi-Sweet Chocolate Chips or Chopped Chocolate of your choice
Tea Infused Butter

250g Unsalted Butter
8 tea bags Earl Grey Tea of your choice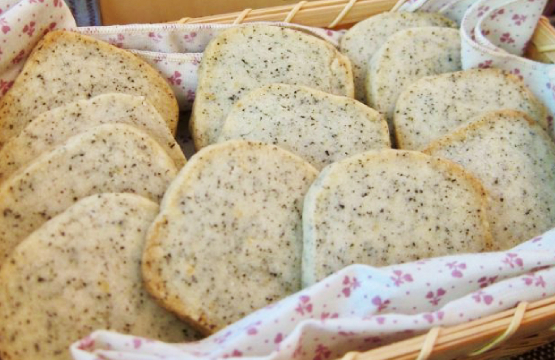 DIRECTIONS FOR COOKIES
Preheat oven to 180°C
Combine cooled melted butter, sugar, vanilla paste, and earl grey tea. Mix till well combined.
Add egg and mix till well combined.
Mix in sifted dry ingredients till 80% combined.
Mix in Chocolate till combined.
If the cookie dough is very soft, refrigerate for 10-15minutes till slightly firm.
Portion in 30g balls (Medium) or 45g balls (Large).
Sprinkle with sea salt before baking.
Bake for 9 minutes for Medium/ 11 minutes for Large.
* Eat within 3 days. Cookie dough can be frozen up to 1 month.
DIRECTIONS FOR TEA INFUSED BUTTER
Over low heat, melt butter till fully melted.
Remove from heat. Add tea bags to infuse for 15 minutes.
Sieve to remove the tea leaves. Cool.
* Excess infused butter can be frozen to keep its fragrance.