Enjoy French Classic, Chocolate Éclair, a perfectly light choux pastry filled with creamy crème patisserie and coated with luscious dark chocolate ganache!
Cuisine : Baking Course : Dessert  Skill Level : Novice
Prep : 30 mins Cook : 15 mins Ready in : 45 mins  Serves : 10 Servings
---
INGREDIENTS             
Choux Pastry

132g Water
132g Milk
132g Butter
12g Sugar
2g Salt
172g Plain Flour
268g Eggs

Crème Pastisserie

140g Milk
Vanilla Extract
32g Egg Yolks
40g Sugar
14g Cake Flour

Chocolate Ganache

100g Heavy Cream
100g Dark Chocolate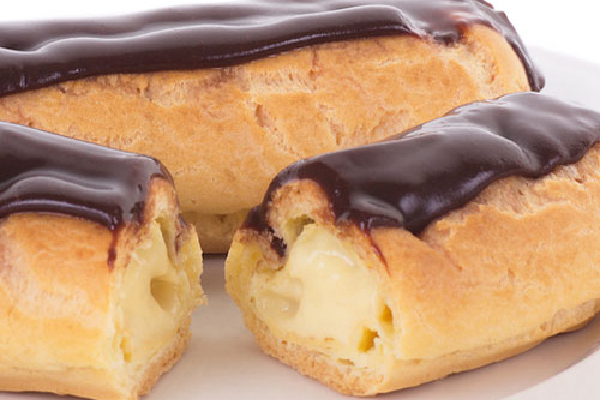 DIRECTIONS FOR CHOUX PASTRY
Bring water, milk, butter, sugar and salt to a boil.
Whisk in plain flour and dry the dough till it pulls away from the sides of the pot.
Transfer mixture to a stand mixer and gradually incorporated eggs
Transfer mixture to a piping bag.
Pipe mixture and steam bake at 200C for 15 mins.
DIRECTIONS FOR CRÈME PASTISSERIE
Bring milk and vanilla to a boil.
Whisk egg yolks and sugar till light and add in cake flour.
Gradually pour in the boiled mixture with the mixer still running.
Once incorporated, transfer mixture back to the pot and continue stirring till thicken.
DIRECTIONS FOR CHOCOLATE GANACHE
Heat up cream and melt chocolate together.