This dish, 'Strawberry Mille-Feuille' literally translates to a thousand layers. This refers to the paper-thin layers of the delicate puff pastry. Using puff pastry that is readily available in local stores, you will create a feather-light dessert with a vanilla-infused custard cream, and complemented with fresh strawberry slices.
Cuisine : Baking Course : Dessert Skill Level : Novice
Prep : 75  mins Cook : 30 mins Ready in : 105 mins Serves : 6

---
INGREDIENTS:
375g Milk
75g Sugar
25g Corn Flour
1 tbsp Vanilla Bean Paste
35g Butter
5 Egg Yolks
12 Strawberries (each sliced into 4)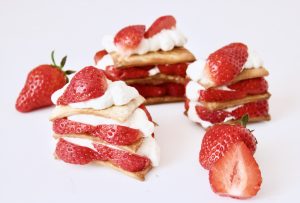 DIRECTIONS:
         For Puff Pastry
Cut each sheet into 8 equal pieces.

Lay them on a greased baking sheet. Dock them with a fork. Place another baking sheet over them and bake at 190°C for 10 minutes.

Remove the top baking sheet, reduce the heat to 180°C and bake until golden brown (about 5 to 10 minutes). Allow to cool.

For Custard Filling

Heat the milk in a sauce pan.

At the same time, whisk the egg yolks and sugar together till creamy. Whisk in the corn flour and the vanilla bean paste.

Drizzle in the warm milk, whisking all the time.

Pour it back into the sauce pan and cook until the custard bubbles and thickens.

Take it off the heat and add in the butter.

Cool completely. Refrigerate for an hour.

For Assembly

Pipe the custard on a piece of puff pastry (with a star shaped nozzle if desired).

Place sliced strawberries over.

Put another puff pastry layer on top and repeat the layering.

Place the third puff pastry over and refrigerate for one hour.

Dust with icing sugar before serving.