The perfect dish for a chilly day – French Onion Soup! A deeply savoury soup with rich flavours from caramelized onions topped with cheese of your choice and a side of toasted French bread slice!
Cuisine : European Course : Appetizer Skill Level : Novice
Prep : 20 mins Cook : 65 mins Ready in : 85 mins Serves : 1-2

---
INGREDIENTS:
4 Yellow Onions, sliced thin
Olive Oil
Butter
8 slices of French Bread
2-3 tbsp Cognac (optional)
4 ounces Emmental Cheese
Salt and Pepper
1 leaf Bay Leaf
1 cup White Wine (optional*** add with stock)
4 cups Beef Stock
3 tbsp Flour
1/2 tsp Sugar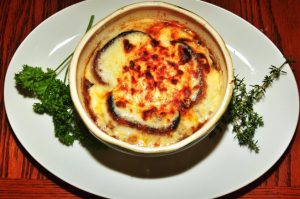 DIRECTIONS:
Heat a heavy, oven-safe, stock pot over medium-low heat and add butter and olive oil.
Stir the sliced onions into the oil/butter mix, ensuring they are evenly coated. Add a pinch of salt and a little sugar to help onions to caramelised.
Reduce heat to medium-low and stir in 3 tbsp flour. Cook 2-3 minutes until flour forms a thick paste (add more butter if needed).
Stir in beef stock, white wine (if using) and incorporate.
Add the bay leaf and allow to simmer for 20-30 minutes.
Pre-heat oven to grill.
Drizzle both sides of French bread slices with olive oil, and place on a baking sheet. Cook the bread in the oven for 15 minutes on each side.
Add cognac, and cover the soup mixture with the bread, forming a single layer bread top. Sprinkle the rest of the Swiss cheese over the top of the bread, forming a thick layer. Drizzle melted butter or oil over the cheese, and place the pot into the oven uncovered and bake for around 20 minutes at 180'c. Turn the broiler on and brown the cheese.
Serve hot, direct from oven.