This gorgeous Red Velvet Molten Lava Cake topped with a delightful Vanilla Ice cream for the ultimate indulgence!
This simple Chawanmushi with Shimeiji mushroom recipe is packed with goodness, perfect for a healthy heart.
Cuisine : Asian Course : Appetizer Skill Level : Novice
Prep : 20 mins Cook : 20 mins Ready in : 40 mins Serves : 2

---
INGREDIENTS:
1/2 cup Dashi
1/2 tbsp Sake
1 Large egg
2 Ginkgo nuts
4 Slices of kamaboko (Japanese fish cake)
1/2 tsp Mirin
1/2 tsp Salt
1/2 tsp Light soya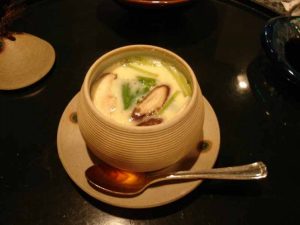 DIRECTIONS:
Make dashi stock.
Whisk the egg in a medium bowl, but do not create air pockets. Add dashi stock and Seasonings. Then strain the mixture through a sieve into another bowl.
Start boiling water. The amount of water should cover ½ of chawanmushi cup. When boiling, reduce the heat to the lowest heat.
Divide all the ingredients into 2 cups. Add ginkgo nuts and mushroom. Then put the kamaboko on top.
Gently pour the egg mixture into the cups without creating bubbles. Instead of covering the ingredients completely with the egg mixture, leave some ingredients exposed.
Place gently inside the hot water (it should NOT be "boiling") and cover the pot's lid. Cook for 15-20 minutes on the lowest heat.