Steamed Threadfin Fillet on Tomato & Zucchini Ratatouille
by Susanne Despature

We make new year's resolutions in an attempt to start afresh and turn over a healthy new leaf. Losing weight is often on top on the list – but no need to survive on egg white and spinach alone! Shift to a fibre-rich diet with ample sources of lean protein – it's the simplest way to reduce your calorie intake without eating less! Here's a good way to start: this flavorful dish is high in proteins and fibers, contains some healthy fats and will fill you up so you can get on with your day.
Cuisine : European Course : Main Skill Level : Novice
Prep : 10 mins Cook : 30 mins Ready in : 40 mins Serves : 4

---
INGREDIENTS:
4 pcs Threadfin Fillet (or Red Snapper, Barramundi) (120g/pc)
1 Large Yellow Onion
2 Cloves Garlic
10g Butter
1 tbsp Olive Oil
1 tbsp White Wine Vinegar
1 tbsp Raw Sugar
1 Zucchini
1 can Tomatoes, chopped
½ bunch Sweet Basil, chopped
Salt, Pepper, Thyme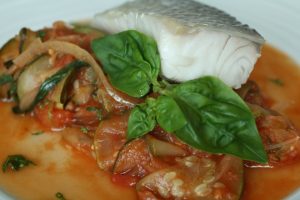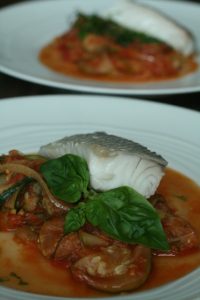 DIRECTIONS:
Place threadfin fillet in steamer basket.
Peel onion, then slice them finely in a food processor, set aside.
Do the same with the zucchini (if zucchini is too large, cut in two, lengthwise), set aside.
Chop garlic finely in food processor.
In a non stick pan or wok, heat butter and olive oil over medium heat. Add sliced onion, chopped garlic, sugar and salt.
Fry on low heat for 5 minutes, until onions are translucent, then add white wine vinegar and fry for another 15 mins, until the onion are caramlised and soft.
Add zucchini, sprinkle with salt and fry on medium heat with onions, until translucent.
Add chopped tomatoes and thyme and mix gently with zucchini. Cook for 10 mins or until the juices have reduced by a little. Season to taste with salt and pepper, add finely chopped basil.
Steam fish fillet for 5-7 minutes or until the flesh turns opaque and white – add salt.
On a plate, place 2-3 spoonfuls of ratatouille in the middle. Top with fish and garnish with basil.