This popular noodle dish is often served on birthdays, New Years, and other special occasions. Serve it with Superior Stock and Quail Eggs paired with home-made broth,  ideal for your empty stomach!
Cuisine : Asian Course : Main Skill Level : Novice
Prep : 20 mins Cook : 15 mins Ready in : 35 mins Serves : 6

---
INGREDIENTS:
400g Longevity Noodles
6 tbsp Oil (for cooking)
1 tsp Chopped Garlic
200g Pork Loin or Fillet (sliced), marinated with dash of Maggi Seasoning Sauce and 1 tbsp Cornstarch
30g Dried Shitake Mushrooms (sliced)
100g Chinese Chives (koo chye), cut into 3cm lengths
1 litre of Water
3 tbsp Concentrated Chicken or Scallop Stock
2 tbsp Oyster Sauce
12 pieces of Prawns (peeled)
200g Bean Sprouts
Cornstarch (for thickening)
12 pieces of Quail Eggs (hard boiled and peeled)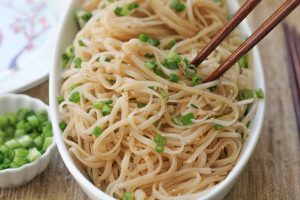 DIRECTIONS:
In a large pot of boiling water, blanch noodles for 5-10 minutes until tender. Refresh in cold water and set aside.
Heat oil in wok, sauté garlic till fragrant. Add pre marinated pork slices and cook briefly. Stir in mushrooms and Chinese chives and sauté for 2 minutes.
Pour in water and bring to boil. Season with concentrated stock and oyster sauce. Add prawns and bean sprouts. Thicken sauce slightly with some cornstarch.
Return noodles and quail eggs to boiling for a quick blanch. Transfer to serving plate and pour sauce over noodles.