You're going to love this homemade salsa recipe! Prepare this with Nachos for your guests during your next gathering!
Cuisine : European Course : Condiment Skill Level : Novice
Prep : 10 mins Cook : 10 mins Ready in : 260 mins Serves : 6-8 Servings

---
INGREDIENTS:
HOMEMADE SALSA

1-2 no Red Capsicum – small diced
1-2 no Green Capsicum – small diced
½ no Onions – small diced
1 tsp Garlic – minced
8-10 no Cherry Tomatoes – quarters
Jalapeno to Taste – diced
Chili to Taste – diced
Juice of half a Lemon
50-100ml EVOO
Salt to Taste
Freshly Ground Black Pepper to Taste

NACHOS

100g Tortilla Chips
30g Grated Parmesan
30g Grated Gouda
30g Grated Edam
15g Grated Cheddar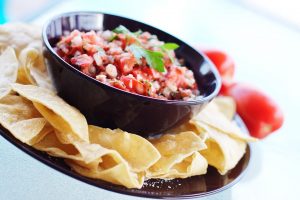 DIRECTIONS
Add above ingredients into mixing bowl.
Toss well, ensure sufficient salt and pepper.
Refrigerate (overnight is best).
Add nachos into warm oven for 2-3 minutes.
Remove, add cheeses and return to oven till cheese becomes gooey.