Give your pasta a touch of Singapore with laksa leaves and kaffir lime leaves. The aromatic fragrance of the leaves, coupled with a smooth and lucious sauce will definitely be a family favourite!
Cuisine : European Course : Main Skill Level : Novice
Prep : 20 mins Cook : 0 mins Ready in : 20 mins Serves : 2

---
INGREDIENTS:
250g Penne Pasta
50g President Butter
1 tbsp Olive Oil
2 Shallots (chopped finely)
2 cloves of Garlic (chopped finely)
200ml President Cooking Cream
200g Smoked Salmon Slices
2-3 sprigs of Laksa Leaves (sliced finely or chopped)
2-3 Young Kaffir Lime Leaves (crushed and sliced finely)
Salt and Pepper (to taste)
Laksa Leaves (for decoration)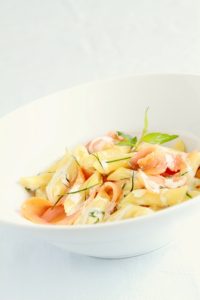 DIRECTIONS:
Cook pasta according to packet instructions and toss with a little knob of the butter. Set aside.
In a sauté pan, add remaining butter and olive oil. Sauté the shallots over medium heat for 1 minute. Add garlic and cook until aromatic, then add the cream and bring to boil.
Add pasta and cook for 1 minute. Add the rest of the ingredients, mix and season to taste.
Serve decorated with laksa leaves.