Norwegian Salmon & Sicilian Tuna Tartare, Cous Cous, Passion Fruit Vinaigrette
by Felix Chong

Pamper your taste buds with this sensational Salmon and Tuna Tartare with Passion Fruit Vinaigrette from Chef Felix Chong.
Cuisine : European Course : Appetizer Skill Level : Novice
Prep : 15 mins Cook : 20 mins Ready in : 35 mins Serves : 6

---
INGREDIENTS:
For the Cous Cous

6 tbsp Cous Cous
2 pcs Red Capsicum
2 pcs Yellow capsicum
1 tbsp Chives, chopped
2 pcs Red Onion
1 pc Japanese Cucumber
Pinch of Sea Salt Flakes
Drizzle of Extra Virgin Olive Oil

For the Passionfruit Vinaigrette

4 pcs Passionfruit
4 tbsp Extra Virgin Olive Oil
1 tsp Dijon Mustard
Pinch of Sea Salt Flakes
Pinch of crushed Black pepper
Pinch of Icing Sugar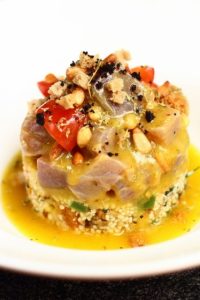 DIRECTIONS:
          For the Cous Cous
Heat up a small pot of water.

Once it start to boil, pour it over the cous cous just sufficient to cover it and cling film it, allow to cook with the heat for about 15 minutes.

In the mean while, brunoise all the vegetables and set aside on another bowl.

Once the cous cous is cooked and cool down, mix it together with the brunoise vegetables, drizzle with olive oil and season to taste.

For the Passionfruit Vinaigrette

Remove the pulp from the passion fruit and transfer to another bowl.

Add in the Dijon mustard and while whisking it, add in the olive oil gradually.

Add in pinch of icing sugar and season with sea salt and pepper.