This sweet and sour Passion Curd Meringue tart is a harmonious marriage of decadent flavours.
Cuisine : Baking Course : Dessert Skill Level : Novice
Prep : 40 mins Cook : 15 mins Ready in : 55 mins Serves : 8

---
INGREDIENTS:
Passionfruit Curd
110g Fresh passionfruit juice (extract juice from 6 small passion fruits)
100g Eggs (around 2 eggs)
80g Castor sugar
40g Unsalted butter
Sweet Crust
60g Unsalted butter
40g Icing sugar
30g Egg
110g Plain flour
15g Ground almond powder
Golden Meringue
80g Egg whites
95g Castor sugar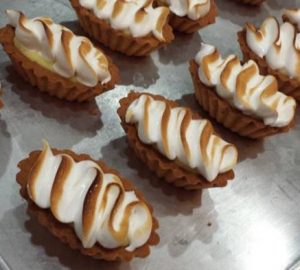 DIRECTIONS:
         For the Passionfruit Curd
Lightly beat the egg into the passion fruit juice and mix well with the sugar.

Double boil the mixture until thicken.

Strain the mixture and add in unsalted butter.

Leave it aside to cool.

For the Golden Meringue

Bring a pot of water to boil.

Place the egg whites and sugar over the pot and whisk until the sugar is dissolved and mixture are hot, remove from the stove.

Whip the mixture until it is stiff peak and cooled down.

Fill the piping bag with the cooled meringues.

Pipe onto the lemon curd tart and blow torch it until slight brown.

For the Sweet Crust

Cream unsalted butter and icing sugar until light and whitish colour.

Add in egg gradually.

Add in the flour mixture and mix well.

Press the dough into a tart case and bake at 180°C fan-mode for 15 mins.