These Spicy Minced Prawns served in Lettuce Cups serve as a tasty, appetising starter to any meal! Feel free to leave the minced prawn filling separate from the lettuce cups and let guests assemble it on their own for extra fun! 
Cuisine : Fusion Course : Appetizer Skill Level : Novice
Prep : 20 mins Cook : 5 mins Ready in : 25 mins Serves : 6

---
INGREDIENTS:
200g Prawns, peeled, de-veined
250g Heirloom Tomatoes, diced
1 small Red Onion, diced
100g Cucumber, peeled and diced
1pc Lime
1pc Lemon
2 tbsp Coriander
1 tsp Fresh Chilli, chopped
1 tbsp Italian Parsley
Extra Virgin Olive Oil, to finish
½ tbsp Peanut Oil, for frying
¼ Onion, peeled and finely diced
1 tsp Fresh Ginger, peeled and chopped
1 clove Garlic, chopped
1 small dash, Fish Sauce
1 small dash, Light Soy Sauce
1 head Butterhead Lettuce or any type of salad that you can find in the supermarket that is crisp and give you small cups to fill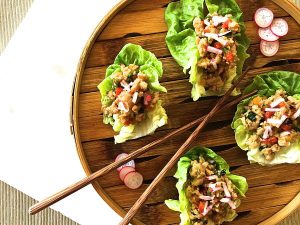 DIRECTIONS:
Mince the prawns/chop them finely. Add them into a bowl and marinate them with fish sauce, soy sauce, and lime juice. Marinate for 5 mins.
Add peanut oil to a frying pan or wok, medium heat, stir fry garlic, onions, ginger, and the diced onions for 1 min. Add in the marinated prawn mixture. Stir fry on high heat for 2-3 mins till the prawns are cooked. Transfer the prawns into a bowl and add the diced tomatoes, cucumber, red onions, lemon juice, chilli, coriander, Italian parsley and extra virgin olive oil. You might add some more soy sauce or salt to your liking.
Wash the lettuce, plug the leaves/cups and place onto a plate.
Add the prawn mixture into the salad cups & top with some additional chopped coriander and chilli.