Get the secret to a perfectly seasoned Grilled Steak with Pesto with this recipe shared by Chef Anil Singh!
Cuisine : European Course : Main Skill Level : Novice
Prep :15 mins Cook : 20 mins Ready in : 35 mins Serves : 1

---
INGREDIENTS:
2 tbsp Olive oil
Required amount of Black Pepper
Required amount of Sea Salt
2 tsp Ground Paprika
5 sprig Fresh Rosemary, finely chopped
2 tsp Garlic Powder
1 tsp Nutmeg
2 tsp Mexican Oregano
3 tbsp Green Pesto
1 tsp Lemon Juice
1/2 tsp Chicken Powder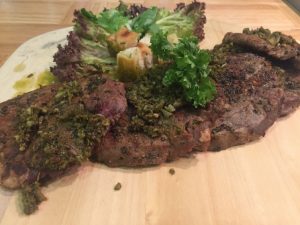 DIRECTIONS:
In a bowl, add olive oil, black pepper, ground paprika, sea salt, fresh rosemary, garlic powder, dried Mexican oregano and nutmeg and mix it.
Place the beef in the bowl and mix it together with the marinated spices.
Sear the marinated beef on a searing pan until the desired temperature.
In a bowl, add green pesto, lemon juice, chicken powder and excess oil form the seared-beef and mix it well.