Try this delicious pairing of apple and raspberry with a buttery crumble recipe by Chef Susanne Despature!
Cuisine : Baking Course : Dessert Skill Level : Novice
Prep : 25 mins Cook : 25 mins Ready in : 50 mins Serves : 6

---
INGREDIENTS:
6 Apples (Golden delicious, Pink lady…)
20 g Butter (A)
200 g Raspberries
50-80 g Brown sugar (A)
70 g Brown Sugar (B)
80 g Salted Butter, soft (B)
1 Egg yolk
70 g Almond Powder
1 tbsp Vanilla Sugar or essence
100 g Plain flour
25 g Corn starch
1 g Double Baking Powder
Icing Sugar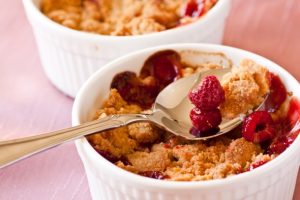 DIRECTIONS:
Peel the apples, cut it into 4 and remove the core. Cut each segment into 4-5 pieces.
In a pan, melt butter (A) over medium heat – add apples and brown sugar (A) , then sauté for 4-5 minutes, until the apples are slightly translucent at the outside, but still firm in the inside.
Transfer to an ovenproof dish and add the raspberries on top. Preheat oven to 180°C.
In a bowl, combine soft butter (B) , brown sugar (B) and egg yolk and mix with a spoon until soft and creamy.
In another bowl, combine all dry ingredients of the second paragraph and mix with a spoon.
Add dry ingredients to soft butter cream and using a fork, crumble everything using a fork and spread on top of apples and raspberries.
Bake for 15 – 20 minutes until golden brown
Take out of the oven and dust with icing sugar.
Serve with ice-cream.