This delectable, spicy and warm soup is a perfect start to a meal. The addition of coconut cream complements the butternut and the soup is instantly creamy and lucious, adding depth to the taste and pleasing to the tongue.
Cuisine : Fusion Course : Appetizer Skill Level : Novice
Prep : 10 mins Cook : 35 mins Ready in : 45 mins Serves : 6

---
INGREDIENTS:
500g Pumpkin, peeled and diced (butternut)
3-4 Tomatoes, peeled and diced (or ½ can of diced tomatoes)
1 Big Onion (diced)
1 tbsp Grape Seed Oil
300-400ml Chicken Stock
125ml Coconut Milk
2 cloves of Garlic (chopped)
1 stalk of Lemongrass (root end trimmed & outer layers discarded, finely chopped)
Chopped Young Ginger
1 tbsp Paprika Powder
½ tsp Freshly Grated Nutmeg
1 pinch of Chilli Pod (chopped)
¼ Salt and Pepper
Coriander Oil, Coriander Leaves, and Coconut (for decoration)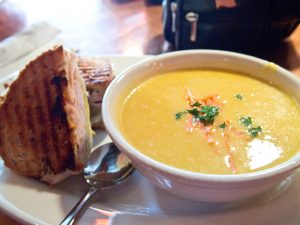 DIRECTIONS:
In a large pot over medium high heat, fry the diced onions until translucent and soft (about 3 minutes). Add the pumpkin, lemongrass, garlic and ginger and continue to fry for 1-2 more minutes. Add paprika powder and chopped chilli, give a stir, than add the tomatoes, chicken stock and some of the coconut milk. The liquid should just cover the pumpkin.
Cover, then cook over low heat for about 20 minutes or until the pumpkin is tender.
Place in a blender and puree until smooth. Pass trough a fine sieve to discard the lemongrass and to get a perfect velvety consistency. Add more coconut milk or chicken stock if the soup is too thick.
Bring to a boil, season to taste with salt & pepper. Ladle some soup in 6 bowls and serve with a drizzle of coconut milk, coriander oil and some coriander leaves.