These delicate mini Raspberry Chocolate Tea Cake are perfect as a tea-time snack. Enjoy it with a cup of your favourite tea for a delightful afternoon tea party!
Cuisine : Baking Course : Dessert Skill Level : Novice
Prep : 30 mins Cook : 15 mins Ready in : 45 mins Serves : 6-8

---
INGREDIENTS:
50 gm Unsalted butter (Group A)
65 gm Castor sugar (Group A)
55 gm Eggs (around 1 egg) (Group B)
1 tsp Vanilla essence (Group B)
12 gm Cocoa powder (Group C)
50 gm Cake flour (Group C)
1/4 tsp Baking powder (Group C)
1/8 tsp Baking soda (Group C)
65 gm Plain yogurt (Group D)
Chantilly Cream: 100 gm Dairy Whipping Cream | 20 gm Icing Sugar | 1 tsp Vanilla Essence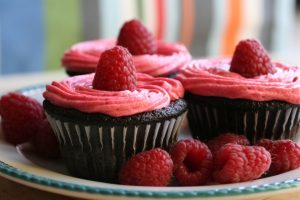 DIRECTIONS:
Cream Group A (Unsalted Butter & Castor Sugar) until fluffy and light.
in the Group B (Eggs & Vanilla Essence) gradually and mix well.
Add in the Group C (Cocoa Powder, Cake Flour, Baking Powder & Baking Soda) and mix well.
Lastly, add in Group D (Plain Yogurt) and mix well.
Fill the batter to ¾ full in cupcake cases/ petite cakes tray and bake at 180 degree Celsius for 15 minutes.
Chantilly Cream:
Whip the dairy cream until soft peak.
Add in the icing sugar and vanilla essence and whip until stiff peak.
Chill in the fridge until ready to use.