Home-made, freshly baked buttery croissants are a real triumph. Follow our step-by-step recipe by Chef Jehanne Ali for the classic French Croissants.
Cuisine : Baking Course : Dessert Skill Level : Novice
Prep : 240 mins Cook : 30 mins Ready in : 270 mins Serves : 6-8

---
INGREDIENTS:
500 gm Strong bread flour
2 tsp Yeast
1 headed tsp Salt
80 gm Sugar
80 gm Butter
200 ml Water
250 gm Butter (preferably European brand—and more particularly Normandy origin)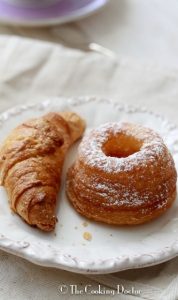 DIRECTIONS:
Mix all the ingredients under 'dough' until stiff but elastic dough is formed. Keep dough to rise for about an hour until almost doubles in bulk.
Shape into a rectangle and keep in the fridge ideally overnight, this is called retard process to stop the yeast from being too activated.
If you are pressed for time, place dough in the fridge until it resembles the firmness of lamination butter.
Ideally the dough and lamination butter should be of same firm consistency to avoid spillage during lamination process.
Bring out the dough from the fridge. Shape into a rectangle.
Place butter half way through the dough and cover with the other part of the dough. You should get a layer of dough-butter-dough. Seal the edges.
Do a double turn followed by single fold turn. The other option is to do a 1-fold turn for 3 times.
Keep the dough rested in the fridge between turns if the dough is too soft.
Cut the dough into 2 sections.
Take a section and roll to rectangle of at least 18 x 9 inches.
Cut into triangles of at least 10 cm base. Stretch the dough and shape into croissant.
Leave to rise for another hour.
Brush the top with egg wash and bake at preheated oven of 200°C for 10 minutes, reduce heat to 180C and bake for another 15-20 minutes until golden.