The hunt for the perfect Banana Cake is over! Indulge in this moist Spiced Banana Chocolate Chip Cake with a light and divine Cookie Butter Swiss Meringue Buttercream!
Cuisine : Baking Course : Dessert Skill Level : Novice
Prep : 30 mins Cook : 50 mins Ready in : 80 mins Serves : 8-12

---
INGREDIENTS:
60g Unsalted Butter, Melted
65g Vegetable Oil
2 Whole Eggs (65g with shell)
125g Milk
250g Banana Puree
200g Light Brown Sugar
250g Plain Flour
7g Baking Soda
3g Baking Powder
2g Salt
1teasp Cinnamon, ground
75g Semi-Sweet Chocolate Chips
3/ About 110g Egg whites from 65g eggs
70g Brown Sugar
250g Unsalted Butter, Cubed (Softened but cold)
50-100g Cookie Butter, Smooth or Crunchy
1/2 teasp Cinnamon, Ground to taste
Salt to taste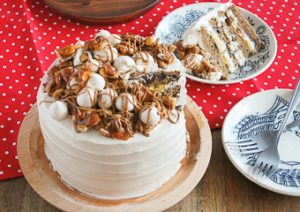 DIRECTIONS:
* Preheat oven to 170-180°C. (One Bowl Method)
Melt Butter and set aside to cool.
Mix eggs, milk and banana puree till well combined.
Sift all dry ingredients into bowl. Mix on low speed to combine.
Slowly add wet mixture into dry ingredients.
Slowly add melted butter/oil into mixture and mix till well combined.
Once fully incorporated, divide into 2 equal portions using a weighing scale into greased and lined 6" tins. About 500g each.
Bake for 40-50 mins till a cake tester comes out clean.
Unmould and cool the cake onto a rack.
*Keep at room temperature for up to 3 days or keep chilled for up to 7 days.
Prepare a Bain Marie/Water Bath.
Combine egg whites and sugar in a grease proof metal/glass bowl.
Over a steaming Bain Marie, heat the mixture gently while stirring regularly.
To test if the egg white mixture is ready, rub it between your fingers to feel if the sugar has dissolved.
Once ready, remove from the heat.
Using the whisk attachment, start at med till a solid white meringue forms and then switch to Med High. It takes about 5 minutes.
Once the mixing bowl feels cool to touch, switch to the Paddle attachment.
At low speed, add butter cubes one at a time until fully incorporated.
Turn to med high speed and whip for 2-5mins.
Add cookie butter and cinnamon to taste. Whip till incorporated.
This buttercream keeps up to 7 days.