If the word 'red velvet' isn't enough to make you try your hands at these lovely little cakes, what about the white chocolate cream cheese sauce that is drizzled over the top of the cakes? Make these today as a gift or as a nice treat for you and your family!
Cuisine : Baking Course : Dessert Skill Level : Novice
Prep : 30 mins Cook : 20 mins Ready in : 50 mins Serves : 6-8

---
INGREDIENTS:
For the Cake

1¼ cups (125 grams) Sifted Cake Flour
¼ tsp Baking Powder
¼ tsp Salt
1 tbsp (10g) Regular or Dutch-processed Cocoa Powder
¼ cup (57 grams) Unsalted Butter, at room temperature
¾ cups (150 grams) Granulated White Sugar
1 large Egg
½ tsp Pure Vanilla Extract
½ cup (120ml) Buttermilk
1 tbsp Liquid Red Food Colouring
½ tsp White Distilled Vinegar
½ tsp Baking Soda

For the Glaze: White Chocolate Cream Cheese Sauce

½ cup Heavy Cream
100g White Chocolate Buttons
2 tbsp Mil
50g Cream Cheese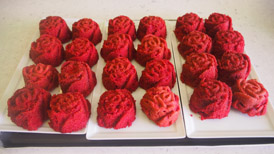 OLYMPUS DIGITAL CAMERA
DIRECTIONS:
Preheat oven to 170°C and grease the Bundt Pan.
In a large bowl sift together the flour, baking powder, salt and cocoa powder.
Using the kitchen machine, insert the paddle attachment to beat the butter until soft (about 1 – 2 mins). Add the sugar and beat until light and fluffy (about 2 – 3 mins). Add the egg and beat until incorporated. Scrape down the sides of the bowl. Add the vanilla extract and beat until combined.
In a measuring cup, combine the buttermilk with the red food colouring. With the mixer on low speed, alternately add the flour mixture and buttermilk to the butter mixture, in three additions, beginning and ending with the flour.
In a small cup combine the vinegar and baking soda. Allow the mixture to fizz and then quickly fold into the cake batter.
Spoon batter into each mini rose muffin Bundt pan) until 2/3 full.
Bake in a preheated oven for 20mins or until a knife inserted into the centre of the cake comes out clean.
Serve with the white chocolate cream cheese sauce.

For the Glaze: White Chocolate Cream Cheese Sauce

Whisk the cream cheese using a hand mixer till smooth.
In a separate heatproof bowl, melt the white chocolate with the heavy cream and milk.
Once chocolates are fully melted, leave to cool for 5 minutes.
Add the white chocolate mixture to the cream cheese and beat till smooth and creamy.
Serve with mini rose velvet cakes.