Another sauce not to be excluded when serving chicken rice is the ginger sauce! The minced ginger is sautéed with spring onion before mixing with oyster sauce. Chicken stock can be added if sauce seems a little thick for liking.
Cuisine : Asian Course : Condiment Skill Level : Novice
Prep : 5 mins Cook : 5 mins Ready in : 10 mins Serves : 10

---
INGREDIENTS:
100g Corn or Canola Oil
120g Spring Onion (diced)
30g Ginger (minced <1mm)
1 tsp Oyster Sauce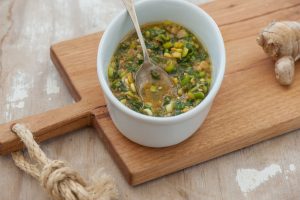 DIRECTIONS:
Heat oil till slightly smoking, pour over ginger and spring onion. Add oyster sauce and mix well.