Chicken fat is one of the main components that creates the distinct flavour of chicken rice. Ensure that the fats are crackling before frying the ginger and garlic and then go ahead with adding pandan leaves and rice.
Cuisine : Asian Course : Condiment Skill Level : Novice
Prep : 10 mins Cook : 25 mins Ready in : 35 mins Serves : 8

---
INGREDIENTS:
60g Chicken Fat
4cm knob of Old Ginger (45g, sliced)
6-8 cloves of Garlic (45g, crushed)
2 pieces of Pandan Leaves
450g Rice (washed and drained)
750ml Stock (from boiling chicken)
4 tbsp of Maggi Concentrated Chicken Stock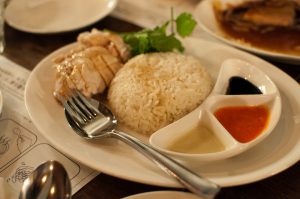 DIRECTIONS:
In a non stick pan, render chicken fat till almost crackling.
Saute ginger and garlic till fragrant. Add pandan leaves and rice pour in the stock and add Maggi Concentrated Chicken Stock.
Mix well transfer rice cooker and cook until done.