Churros are delicious fritters that are dusted with a fragrant mixture of Cinnamon Sugar. They are the Spanish equivalent of doughnuts, sold at many cafes. Serve these warm, sprinkled with Cinnamon Sugar or drizzled with honey. They are quick and easy to make!
Cuisine : Baking Course : Dessert Skill Level : Novice
Prep : 30 mins Cook : 25 mins Ready in : 55 mins Serves : 2-4

---
INGREDIENTS:
50g Bread Flour High (High Protein Flour)
50g Plain All Purpose Flour
12g Caster Sugar
2g Salt
65g Unsalted Butter
190ml Water
3 nos Whole Eggs
For the Cinnamon Sugar (For dusting the churros)

10g Cinnamon Powder
100g Caster Sugar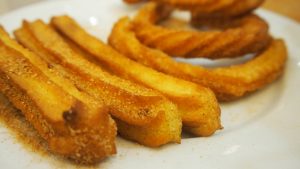 DIRECTIONS:
Preheat oven to 200°C and gently heat up vegetable oil in the frying pot.
Sift flour and salt in a bowl.
In a medium pot, heat up butter, water and sugar until the butter is completely melted.
Bring to boil and add the sifted flour. Continue to stir until the mixture resembles a ball and no longer sticks to the sides of the pot.
Remove from heat and cool it down a bit before incorporating the eggs gradually until a thick smooth mixture is achieved.
Transfer the dough into a piping bag fitted with a small star nozzle.
For the Baked Churros – Pipe long lines on a tray lined with baking parchment. Bake in the oven for approximately 12 – 15 mins depending on your oven.
For the Deep-Fried Churros – When the oil is hot and ready to use, pipe long lines into the oil and fry till golden brown.
When the churros are ready, roll them into the cinnamon sugar.