Love Kong Bak Pau? Then you'll love this Sous Vide version! The melt-in-your-mouth pork belly paired with steaming hot buns will leave you wanting more! 
Cuisine : Asian Course : Appetizer Skill Level : Novice
Prep : 20 mins Cook : 600 mins Ready in : 620 mins Serves : 12

---
INGREDIENTS:
24 fresh or frozen Chinese-style steamed buns
1 lettuce, washed, dried, and torn into medium-sized pieces
A bottle of achar
Marinade

1/2 cup soy sauce
1/2 cup mirin
1/2 cup granulated sugar
2 tablespoons fish sauce
2 whole scallions, roughly chopped
3 medium cloves garlic, roughly chopped
1 slice ginger, peeled and roughly chopped
1-2 slabs pork belly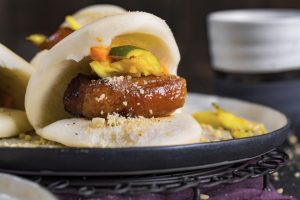 DIRECTIONS:
Preheat the water bath to 170°F (77°C).
Combine the marinade together in a food processor.
Marinade with pork belly a vacuum bag and seal.
Transfer to sous vide cooker and cook until completely tender, about 10 hours.
In a saute pan, heat up on medium high heat without oil. Add pork belly to pan fry until fully cooked and nicely golden on the outside.
Steam buns in a bamboo steamer.
Stuff with lettuce, pork belly, and achar. Serve immediately.