Enjoy your weekend with these delicate and sweet macaron filled with rich blueberry cream cheese goodness!
Cuisine : Baking Course : Dessert Skill Level : Novice
Prep : 45 mins Cook : 15 mins Ready in : 60 mins Serves : 30 macarons

---
INGREDIENTS:
250gm TPT (125gm Almond Flour + 125gm Sifted Icing Sugar)
45gm "Liquefied" Egg White
112gm Sugar
40gm Water
45gm "Liquefied" Egg White
40gm Egg
80gm Yolk
220gm Sugar
560gm Unsalted Butter (soften)
375gm Cream Cheese, room temp
As needed Blueberry Jam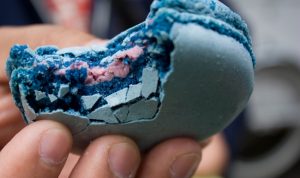 DIRECTIONS:
Mix the TPT with 45gm of egg white using a paddle.
Prepare an Italian meringue with 45gm of egg white, sugar and water. Cook till 118⁰C.
Fold the Italian meringue lukewarm into the first mixture in three stages.
Pipe macaron batter on parchment paper.
Leave it aside till tops are dry to touch.
Bake at 140⁰C for 14mins
Remove from baking tray and onto cooling rack once out of the oven to prevent over baking the shells.
Whisk egg and egg yolks to ribbon stage.
Prepare sugar syrup and cook till 118⁰C.
Pour into the egg and egg yolks mixture and whisk until mixture is pale and completely cool.
Switch to a paddle and gradually add soften butter.
Mix till mixture is light and smooth. Set aside.
Soften cream cheese before combining with 250gm of buttercream.
Pipe a generous amount of cream on to the shells follow by a small amount of blueberry
Sandwich and store macarons in fridge for 24hrs before consuming.