These addictive Croquetas are a sure hit as an appetizer or as a snack to share with friends. Creamy, crunchy and flavourful – and you can add in different fillings to your desired taste!
Cuisine : European Course : Appetizer Skill Level : Novice
Prep : 100 mins Cook : 10 mins Ready in : 110 mins Serves : 4

---
INGREDIENTS:
1 large or 2 small Potatoes, peeled, cooked and mashed well
3 tbsp Butter
4 tbsp Flour
½ – ¾ c Milk
Lemon juice
Salt and pepper
A few sprigs thyme, picked
To taste: additions such as chopped ham, cubed cheese, diced olives, roasted pepper, etc.
½ c Flour
½ c Breadcrumbs
1 Egg, beaten with a little water
Enough vegetable oil for deep frying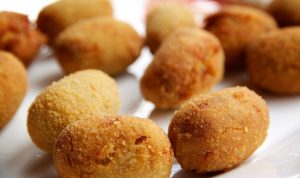 DIRECTIONS:
Melt the butter in a small pot and add flour. Stir to form a paste and cook for a minute. Add the milk little by little, stirring all the while, until fully incorporated. Cook over medium heat until thickened.
In a medium bowl, add white sauce to mashed potato and mix well to combine. Add some lemon juice, salt, pepper and thyme and stir. Add chosen additions, mix, taste and adjust seasoning.
Refrigerate about 1 hour, until firm. Divide cooled mixture into heaped tablespoon portions. Roll each portion into a cylinder shape.
Place ½ c flour, breadcrumbs and egg in a bowl each. Roll each cylinder first in flour, then egg, then breadcrumbs, and place on a tray or plate. Refrigerate 15-30 minutes to set.
Pour oil in a pot, enough to go about halfway up the side of the pot. When oil is hot and shimmering, fry crumbed cylinders in batches until golden brown and crispy. Drain on paper towel and serve right away.