Enjoy a refreshing Thai Green Mango Salad topped with crispy-fried Soft Shell Crab for an appetizing starter.
Cuisine : Asian  Course : Appetizer  Skill Level : Novice
Prep : 20 mins  Cook :10 mins Ready in : 30 mins  Serves : 1-2 Servings
---
INGREDIENTS
Dressing

6 tbsp Thai Sweet Chili Sauce
1 tbsp Lemon Juice
1 tbsp Fish Sauce

1 Frozen Soft Shell Crab (160g each)
Potato Starch
Oil for Deep Frying
2 Large Mango, sliced
10g Mint Leaves
1 tbsp Chopped Coriander
2 tbsp Toasted Peanuts, coarsely chopped
1 Small Red Onion, sliced
1 Tomato Seeded, sliced
Garnish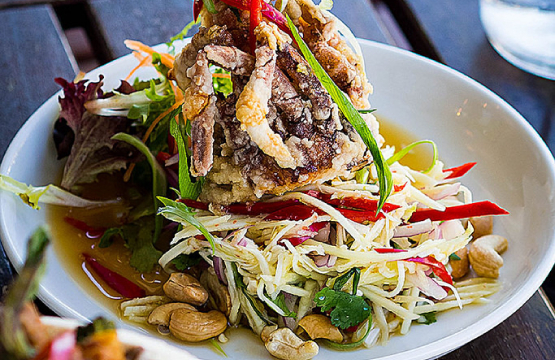 DIRECTIONS 
Combine ingredients for salad dressing and chill.
Dust crab with potato starch and deep fry in preheated oil till crispy.
Toss salad ingredients together with dressing.
Arrange on centre of serving plate and place soft shell crab on top of salad.
Garnish with coriander leaves.