Soffritto is the base of many Italian recipes and can be used to make sauces and risotto. Learn to prepare Chef Dan Segall's Soffrito and you'll always have a basic go-to sauce!
Cuisine : European Course : Condiment Skill Level : Novice
Prep : 10 mins Cook : 120 mins Ready in : 130 mins Serves : 4-6

---
INGREDIENTS:
1kg Onion, yellow – small dice
500ml Oil, olive, pomace
Sea salt
1kg Tomato, vine ripe – peeled
20g Garlic, whole – minced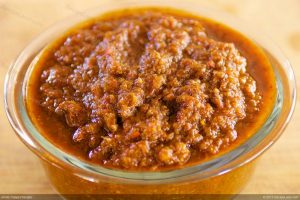 DIRECTIONS:
Combine onion, oil and pinch of salt in saucepan. Cook VERY slowly over low heat for about 2.5 hours until golden brown and oil is clear. Stir every 10-15 minutes.
Squeeze out seeds of tomato and chop finely. Add to onions and cook another 2 hours, until the oil separates and becomes clear again. Add a bit more salt and the garlic.
Let the mixture cool in the saucepan, transfer to another container. Refrigerate.