End your meal on a high note with this decadent Gooey Walnut Brownie by Chef Thripti Hinduja!
Cuisine : Baking Course : Dessert Skill Level : Novice
Prep : 20 mins Cook : 20 mins Ready in : 40 mins Serves : 6-8

---
INGREDIENTS:
125 g Chocolate
125 g Butter
100 g Sugar
2 Eggs
30 g Flour
20 g Cocoa powder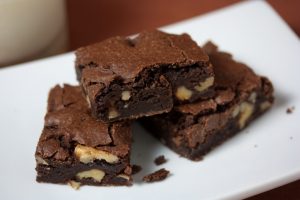 DIRECTIONS:
Preheat the oven to 180C. Butter and line a tin with baking paper. (5″ square pan )
Melt the butter and the chocolate together over a baine Marie.
Take the chocolate mixture off the heat and stir in the sugar.
Next add in the egg and mix well.
Sieve the cocoa and the flour directly into the bowl and stir to combine.
Pour the mixture into the prepared baking tin. Bake for 20 min or until a skewer inserted comes out with a few moist crumbs attached to it. Cool completely before demoulding and cut it into squares.