This hearty smoked salmon tart is perfectly portable for Sunday picnics and weekday lunchboxes! The sour cream pastry adds a twist to regular shortcrust pastry and goes perfectly well with the smoked salmon in the tart! Serve this with a side salad and you'll be good to go! 
Cuisine : Baking Course : Appetizer Skill Level : Novice
Prep : 15 mins Cook : 70 mins Ready in : 85 mins Serves : 6-8

---
INGREDIENTS:
For the Sour Cream Pastry

170g Plain flour
140g Butter
1/3 cup (80ml) Sour cream

For the Filling

100-150g Smoked salmon
400ml Thickened cream
3 Eggs
Pinch of Smoked salt (normal sea salt is fine)
Pinch of White pepper
1 sprig Spring onion, finely chopped
50g Feta cheese, crumbled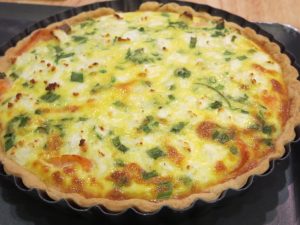 DIRECTIONS:
          For the Sour Cream Pastry
Butter a 24cm loose base tart tin and dust lightly with flour.

Place flour and butter in a food processor. Pulse until mixture resembles coarse breadcrumbs.

With the motor running, add sour cream and blend until a dough forms.

Remove dough, flatten into a disc and wrap with cling film. Rest in the refrigerator for at least 20-30 minutes.

Preheat oven to 180 ºC.

Roll out dough between 2 sheets of 6. Roll out dough between 2 sheets of greaseproof paper or plastic sheet until 2mm thick. Line the tart tin with the pastry, trimming off the edges.

Line with foil or greaseproof paper, fill with dried pulses or baking beads and blind bake for 20-30 minutes until lightly golden. Remove filling and bake for a further 5-10 minutes. Remove from the oven and set aside to cool.

For the Filling

In a medium size bowl, whisk together the cream, eggs, salt, pepper.

Place tart tin on a baking tray. Fill the tart case with the salmon, feta and spring onions, then pour in the cream and egg mixture. It might be easier to do this near or in the oven to avoid spillage.

Bake for 30 minutes or until filling is cooked through and slightly wobbly.