Make your own homemade ravioli filled with scrumptious smoked salmon and 2-cheese filling served in light butter sauce.
Cuisine : European Course : Main Skill Level : Novice
Prep : 25 mins Cook : 10 mins Ready in : 35 mins Serves : 2 Servings
---
INGREDIENTS:
Ravioli Pasta

100g Oo Pasta or Plain Flour
1 Small Egg

Smoked Salmon & 2 Cheese Filling

Smoked Salmon
150g Ricotta
80g Mascarpone Cheese
30g Grated Parmesan Cheese
Salt and Pepper
2 tbsp Olive Oil

Light Butter Sauce

50g Butter
Parmesan Shavings
2 tbsp Cream (optional)
A few Sage Leaves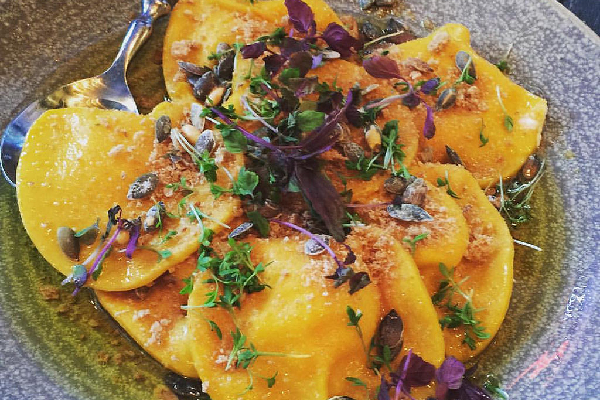 DIRECTIONS FOR PASTA
Knead ingredients into a ball
Pass through pasta machine and cut
DIRECTIONS FOR FILLING & LIGHT BUTTER SAUCE
Prepare the filling by mixing the ricotta with the mascarpone, the smoked salmon, parmesan cheese, 1 tbsp of olive oil, salt and pepper. Mix well.
To make the ravioli, roll out the pasta dough into thin sheets using a pasta machine. Transfer to a lightly floured surface and cut out 12cm rounds with a pastry cutter. Cover with cling film.
Place a ball of filling in the centre of half of the pasta rounds, then brush the edges with water. Place another pasta round on top of each one and press the edges together to seal, stretching the dough slightly and moulding it around the filling with your fingers to make sure there are no air gaps.
In a pot of salted water, cook the ravioli for 2-3 minutes.
In a fry pan, add a sprinkle of olive oil with butter and sage then add the cooked ravioli. Finish with cream if desired.