Looking for an ultra-easy yet delicious snack to serve up this Lunar New Year? These Nian Gao Puffs will seal the deal! Sweet and chewy Nian Gao wrapped in crispy puff pastry, what's not to love?
Cuisine : Asian Course : Baking Skill Level : Novice
Prep : 5 mins Cook : 20-25 mins Ready in : 25-30 mins Serves : 14 Pieces
---
INGREDIENTS:
Sheets of Puff Pastry
Nian Gao, sliced into ~5cm
Black Sesame Seeds
1 Egg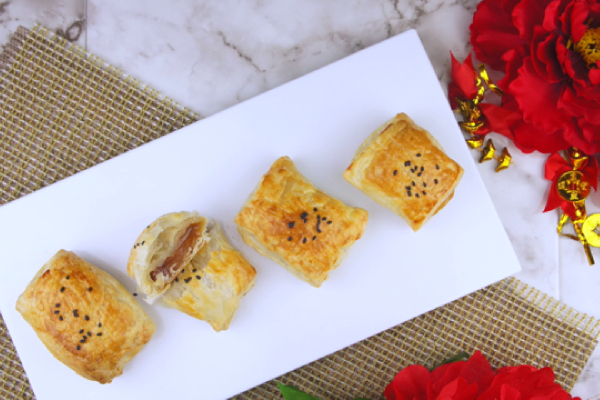 DIRECTIONS 
Preheat oven to 190C.
Slice puff pastry into desired size, ensuring there is at least 2cm extra at each side to wrap the nian gao.
Lay the nian gao on top of the puff pastry, wrap into desired shape and seal the edges.
Add 1 tsp of water into cracked egg and whisk lightly.
Using a pastry brush, apply egg wash all over pastry.
Sprinkle some black sesame seeds and bake for 20-25 mins, or until golden brown.