Indulge in this flavourful, cheesy Mushroom and Spinach Quiche for a savoury breakfast delight!
Cuisine : Baking  Course : Appetizer Skill Level : Novice
Prep : 15 mins  Cook : 30 mins Ready in : 45 mins  Serves : 4-6 Servings
---
INGREDIENTS:
Fillings

6 rashes Bacon, Diced
1 Medium size Yellow Onion, Diced
300g Button Mushroom
100g Wilted Spinach
50g Shredded Cheese

Cream Salad

175g Heavy Cream
4 Eggs + 2 Egg Yolks
Salt
Pepper
1 tbsp Freshly chopped Thyme Leaves
Puff Pastry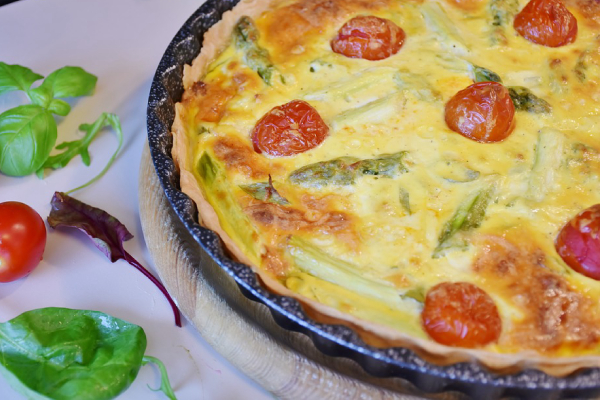 DIRECTIONS:
Thaw puff pastry.
Preheat oven to 200℃.
Whisk up all ingredients in the cream sauce and set aside.
Fry up diced bacon till crispy and golden brown, set aside.
Sauté onion & mushroom in remaining bacon fat till caramelized.
Line baking mould with puff pastry Layer in bacon, mushroom, handful of cheese and spinach and fill the tart with cream sauce till full.
Bake on bottom heat for 20 mins followed by top heat for another 10 mins.
It's ready when the shells are golden brown and eggs are firm.