Panfry food lovers must try Okonomiyaki. This special Japanese savoury pancake is a popular pan fried food that consists of batter and cabbage. Selected toppings and ingredients can be added which can vary greatly.
Cuisine : Asian Course : Appetizer Skill Level : Novice
Prep : 15 mins Cook : 10 mins Ready in : 25 mins Serves : 2

---
INGREDIENTS:
80g Wild Chinese Yam (huai shan) or Nagaimo
50ml Dashi Stock
30g All-Purpose Flour (sifted)
2 Eggs
10g Pickled Ginger (finely sliced)
100g Beijing Cabbage (finely sliced)
70g Peeled Prawns (diced)
50g Clam Meat
2 stalks of Spring Onions (diced)
Oil (for cooking)
Topping
Bonito Flakes (katsuobushi)
Tonkatsu Sauce
Mayonnaise (optional)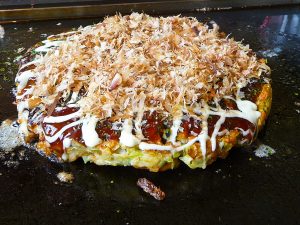 The shop in Shiojiri is by far the best okonomiyaki I had throughout the year. They would bring the batter and cook it in front of you, and put on a show if you wanted mayo or hot sauce
DIRECTIONS:
Grate the Chinese yam into pulp. Mix the pulp with dashi stock. Whisk flour, eggs and yam pulp together.
Add the rest of ingredients for pancake mix. Toss all ingredients thoroughly.
On a non-stick pan, add some oil and heat it up. Place a ladle full of the pancake mixture and fry on low to medium heat on both sides till nicely browned.
Transfer pancake to serving plate, drizzle over the tonkatsu sauce and mayonnaise.
Sprinkle on bonito flakes and extra spring onions before serving.